Kiss of Moonlight in Print!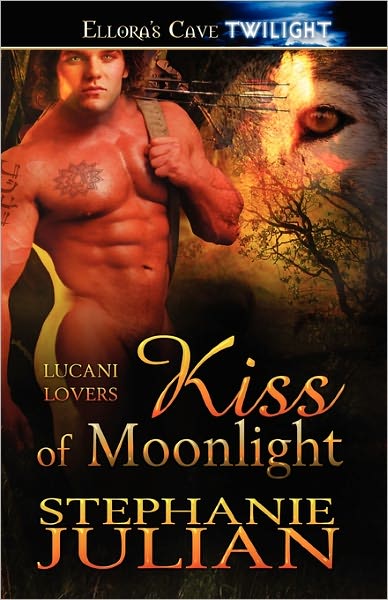 It's here!
KISS OF MOONLIGHT is finally in print! If you were waiting for paper, wait no more. As of now, you can order at
Amazon
and
Barnes & Noble
.
This is the first
book in the

Lucani Lovers series and introduced Kyle and Tam, along with Cat and Tivr, and several other members of the lucani.
Plagued by nightmares. Stalked by kidnappers. Tamra McMillan needs a safe haven. When tattooed bad-ass Kyle Rossini steps into her life, she didn't expect to find a sanctuary from her demons or hot sex. But appearances can be deceiving. His tender touch and the hunger in his eyes brands her his for life.
But otherworldly forces are afoot and death hovers…
Etruscan werewolf Kyle Rossini is a loner. The king's assassin with a killer's instincts. The last thing he needs is a mate. Until he meets the one woman who needs him more than he needs his solitude. When Tamra stumbles into his world and his bed, she captures his heart. And nothing will keep him from her.
Just a few reviews:
"Stephanie Julian has another awesome read on her hands with Kiss of Moonlight... Ms. Julian will tempt a saint and give the sinner what they want with Kiss of Moonlight. This is a fantastic read with brutally vivid characters and flaming hot passion that just leaps off the pages. I cannot wait to see what will happen next."
"...I'm hooked...A wonderful romance with lots of hot interludes, I anxiously await more stories in this series."
"an emotionally and action-packed story... If you are looking for an emotionally, touching story, pick up Kiss of Moonlight."
"Stephanie Julian knows her way around a sex scene...
A solid start to a new series and I definitely recommend."
"Move over Twilight, these Etruscan wolves have got some serious game.
With Kiss of Moonlight the author creates a unique and
rich shifter world in just under 150 pages. That's skill right there!"
"This first installment is a great beginning. I loved this story. But the bit of cliffhanger at the end about killed me. I'm eager to read the upcoming books in this series."

"This is a hot, steamy read and Kyle may be a bad-ass assassin but he is also one considerate lover...
the author lays a good foundation for future books."

"A wonderful first book in a series that I was very pleased to have read. There is an excitement to the pace that the book takes which I was very impressed with..."